If you live in a warm state like Florida, your air conditioning unit must be one of the most well-performing systems in your home. It is also considered to be one of the most costly home appliances, which is why it is equally important to maintain it properly. Luckily, there are a lot of easy and inexpensive ways your air conditioning system can be taken care of. With that, here are some of the most effective ways to maintain your air conditioning unit.
Change Air Filters Once a Month
One of the most common maintenance tasks for your AC is by changing its air filter on a regular basis. Fortunately, it is also one of the stress-free tasks and can be done in no time. The role of an air filter is to stop pollutants and allergens such as dirt and dust from entering your home. When air filters are too dirty, your AC will have a hard time working efficiently. The blockage will not only put a strain on your unit, but it can also hinder the quality of air in your home.
Keep Coils Clean
The coils are one of the most important parts of your AC system that function to help absorb heat and cool your home. Through time, the coils become cloistered with dirt which reduces the amount of heat absorbed. As a result, your air conditioning system is working harder to keep your home cool. Avoid putting unnecessary stress on your AC, which can lead to further problems, by keeping the coils clean.
Inspect the Fins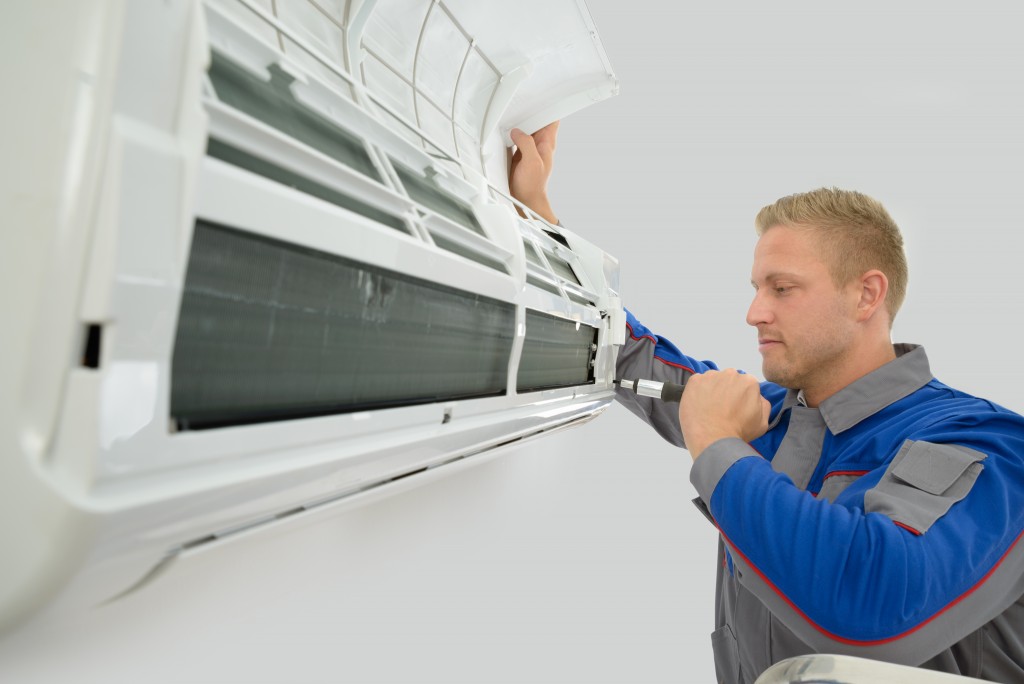 Well, of course, let us not forget the fins. If not given sufficient maintenance care, these can cause insufficient airflow and be damaged. Keep your air conditioning system functioning well by checking the fins regularly to verify that they are in good condition. If you notice any bending, be sure to have it replaced immediately. You can buy a fin comb to resolve the issue or hire a professional air conditioning service technician to do the job.
Check the Condensate Drain
Aside from the filter and fins, your AC also has one integral component that regulates and drains excess and accumulated water — the condensate drain. As time passes, this drain could clog and obstruct drainage. Consequently, this hindrance can potentially damage your AC system. To ensure your AC is in optimal condition and functioning properly, check that the condensate drain regularly and if you notice that there are no traces of water being drained, unclog the obstruction or contact your local air conditioning service company if you find the task too complicated.
As you're already spending a lot of time on household upkeep, it's best to leave your AC needs to qualified technicians. This not only allows you to save time but also ensures a better quality of performance. Schedule an appointment for a thorough inspection, cleaning, and tuning of your AC. This way, you will be assured that the system is functioning optimally and there aren't any underlying problems.