Over £55 billion is expected to be spent on renovations in the following year, according to a recent report by tradesperson portal Checkatrade. The study, which was featured in Homebuilding & Renovating magazine, also found that over half of UK homeowners expect to complete their home improvements in the coming months. Most of the work will be dedicated to sprucing up or repairing their bathroom.
Bathroom installation and renovation can easily cost you around £3,000. You may as well use the best quality materials. From flooring to countertops, here are ideal bathroom materials that you should definitely consider:
Flooring
There's a wide variety of flooring options available for bathrooms. But what you want to look for is something that's water and slip-resistant. You can never go wrong with tile. It is durable and easily replaceable if it breaks. It comes in non-slip designs with grooves and patterns in a stylish way. Also, it comes in luxurious materials such as porcelain and ceramic, so you can enjoy elegance and safety in your bathroom. While it looks good, stay away from wood. It can warp and rot when repeatedly exposed to water, causing holes that could leak water into your subfloor.
Toilet
Porcelain continues to be the number-one material for toilets everywhere, as it can last a lifetime and is easy to clean. But if you want to add some decoration for it, ditch the generic plastic seat. Ask the vendor if they have any resin toilet seats. Decorative materials such as flowers, seashells, and even cold, hard cash can be encased and sealed in this material. Talk about doing your business in style.
Tub
For durability and looks, porcelain-enamelled steel is a great choice. It has the heft and durability of metal with elegant and shiny looks of porcelain. But if you really want something luxurious, get a cast-iron tub. It also has a porcelain enamel, but unlike steel, it's resistant to chips and scratches. It's also more resistant to rust.
Walls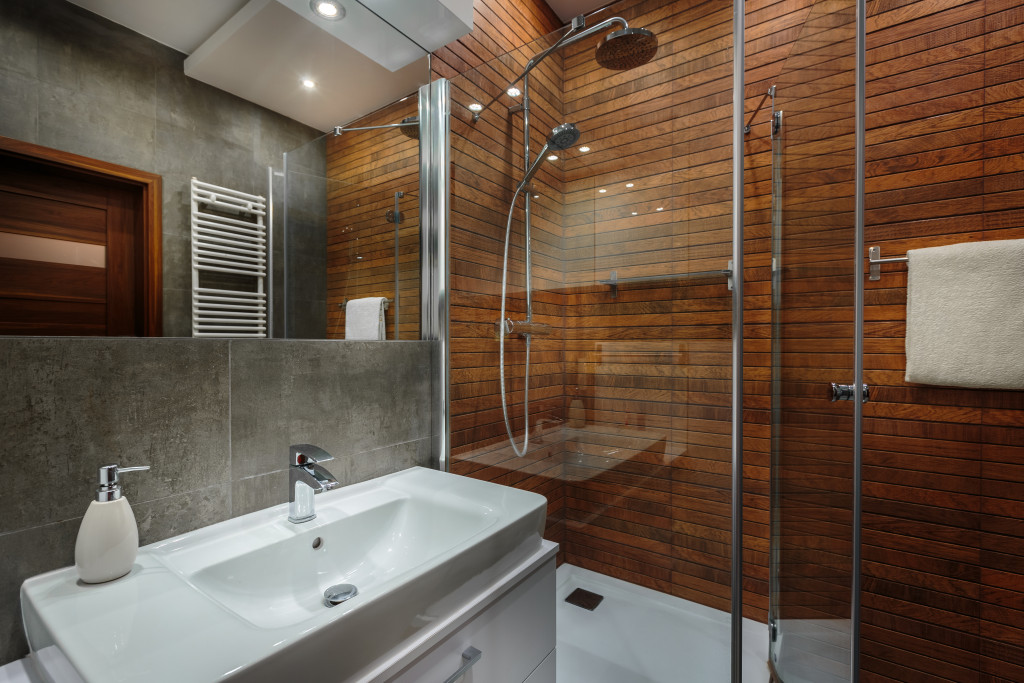 When it comes to walls, porcelain and ceramic tiles reign supreme. Not only are they stylish, but they're also water-resistant, protecting your inner walls from moisture. They also come in a variety of colours and designs, so they can fit any vision you may have for your bathroom. Bare paint also offers a great contrast to your already tile-filled floor. But make sure that you're getting one that's mould- and mildew-resistant.
Countertop
The countertop can make or break your bathroom's look. As such, you should pick the material and colour carefully. If you're willing to spend on your countertop, natural stones such as marble, slate, and onyx provide an elegant and premium feel to your bathroom. Apart from looking good, these stones can last a lifetime with little to no maintenance. If you want a similar look that's easier on your wallet, try laminate. This is made out of layers of plastic styled to look like natural stones, steel, or even wood.
The bathroom is one of the most popular and expensive spaces to renovate. It makes sense, as you often visit the bathroom to relax and unwind, either through a tub or shower bath. As such, it should have a calming and spacious look. Consider these materials for your bathroom installation or renovation project, and you're sure to have a classy and soothing space to take a bath or do your business in.