He is vengeance. He is the night. He is Batman.
From page to page, rooftop to rooftop, a ruthless knight in a cowl shifted in the shadows in the name of justice in "Gotham", a grim city littered with crime and treacherous villains enough to scare comic readers of the twentieth century. Each flip of the page, each brilliantly drawn comic panel was an exciting yet dark new adventure for the Caped Crusader.
Batman's Identity
Batman has ruled over the comics universe as one, if not the greatest, superheroes to ever graced comics books. However, behind this character's action-packed crime-fighting stories, is a tragic sonnet of an orphaned boy avenging the death of his parents after being gunned down by a common thug. Since then, Batman was a symbol of a human's peak physical and mental performance, with no superhuman abilities or alien origins to aid him, in order to bring down criminals in the name of his parents.
This Batman has acquired numerous nicknames over the course of his story: from the Caped Crusader, the Dark Knight to The World's Greatest Detective. Nonetheless, Batman's real name has still eluded the citizens and even the villains of Gotham, but not to the readers. Batman's real name is famously known simply to us as "Bruce Wayne", billionaire and philanthropist by day, crime-fighting vigilante by night.
Artist Bob Kane and comic book writer Bill Finger finalized the "Bat-man" in 1939, after Kane's numerous attempts to come up with the design for who we now know as Gotham's caped hero. However, according to Kane and Finger, they have specifically selected the first name "Bruce" after a medieval Scottish king named, Robert the Bruce. Appropriately enough, they felt it was appropriate for the real name of Batman to be after a nobleman known to be a great leader and warrior in Scottish history. The surname, "Wayne" was then inspired by U.S. Brigadier General Mad Anthony Wayne, an officer during the American Revolution, famous for his wit and strategic advances to defeat British forces. Truly, Batman's alter ego, Bruce Wayne, needed to be as epic as his inspirations.
Bruce Wayne is the Mask
What makes Batman stories ever-compelling is how writers and artists portray the complexity of Bruce's humanity. Although Batman comics started out as your typical, even comedic, superhero who fights crime every night in Gotham, it wasn't until Frank Miller, renowned comic book writer, took up the risk to make a darker, more human Batman story with "The Dark Knight Returns". Writers, since then, who have had the privilege to write a Batman story holds a responsibility to make him as human as tragically possible. One of the vaguest yet interesting concepts made about Batman, however, is the fact that Bruce Wayne considers himself the alter ego, and Batman his true persona.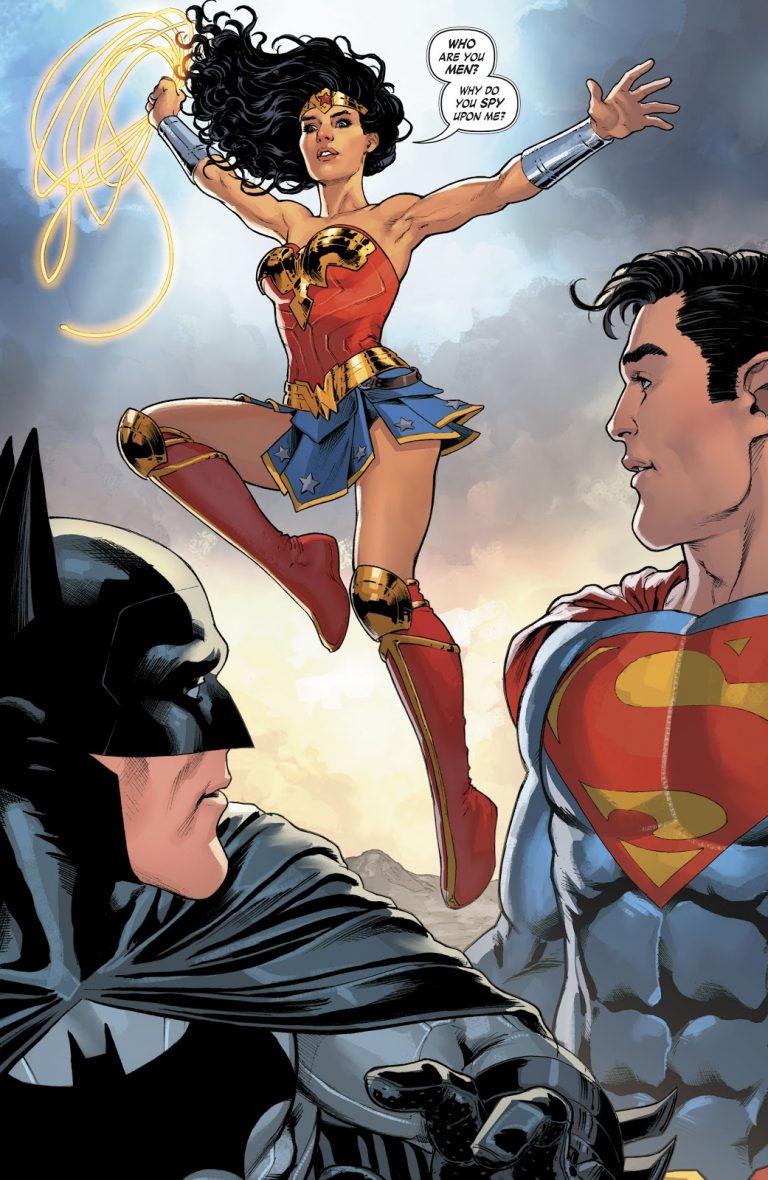 One example was during the Wonder Woman Annual #1 issue in DC's Rebirth, where both Batman and Superman were trying to investigate the newly-arrived Princess Diana. At the time, Diana was speaking in her native language and asks for both heroes to hold the Lasso of Truth, which, as it is famously known for, is a tool that compels all who touch it to say the truth. In this instance, Wonder Woman introduces herself as "Diana of Themyscira, Daughter of Queen Hippolyta", then Superman introducing himself as "Clark Kent. Kal-El.". When it was Batman's turn to say his real name under the lasso's spell, he says, "Batman".

Writers and fans have come to a resolution that the true Bruce Wayne metaphorically died with his parents at that dark alley. These days, Bruce Wayne is a mask Batman uses to maintain his billion-dollar company that ultimately funds Batman's crime-fighting expenses. Batman's alter ego, Bruce, is a dispensable character. On Robin Issue #125, he tells Robin that in a moment's notice, should the identity of Batman as Bruce Wayne becomes exposed to the public, he has prepared a number of civilian identities to step into, along with other identities he has prepared for the rest of his crime-fighting family. Batman, in these series of panels, is giving the readers the concept that the Batman persona is simply the only identity that matters.
The Dark Knights
With the previous sentiment about Batman being the only persona that matters, there a lot of instances in comics when other characters have donned the cape and cowl of the Dark Knight, whether because Bruce Wayne suddenly disappears, suffered a fatal injury, presumed dead or simply retired as Batman.
Batman is a symbol of fear for both civilians and villains and it takes up a lot of anyone's sanity to operate as the Batman and to take on his deranged enemies. In retrospect, Batman is an identity anyone can wear but not everyone can bear being.